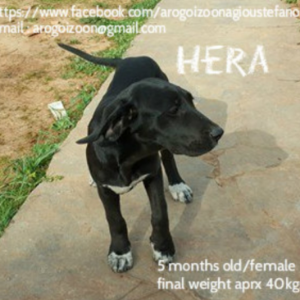 hello! my name is
Hera
Breed
Hound Mix
Size
Large
Age
6y 10m 24d
In shelter since
01-01-1970
Color
Black
Country
Greece
City/Town
Dionysos
Registration number
3
---
Description
Η Ηρα βρέθηκε με τα δυο αδελφάκια της στη μέση του πουθενά στο βουνό, σε ηλικία τεσσάρων μηνών. Φιλονεξείται προσωρινά και περιμένει να βρει το παντοτινό της σπίτι. Είναι ένα παιχνιδιάρικο και χαρούμενο σκυλάκι που θα γίνει ένα εξαιρετικού χαρακτήρα μεγαλόσωμο σκυλί. Ειναι κατάλληλη για οικογένεια με παιδιά, ή άλλα σκυλιά καθώς είναι πολύ φιλική.

Hera was found with her two brothers in the middle of nowhere on the mountain, at the age of 4 months. She is temporarily fostered and she is waiting for her forever home. She is a happy and playful puppy which will become a large dog of an excellent character. She is suitable for family with kids or/dogs as she is very friendly.
---
My temporary Home:

Εθελοντές Αρωγοί Ζώων Αγίου Στεφάνου Αττικής
Telephone Numbers
+30 695 507 9439
Adoption Packages
Domestic
Without expenses or fees. Adopter only pays for the transport. Pets are given only by legal adoption contract. Χωρίς κόστος. Ο κηδεμόνας πληρώνει μόνο τα έξοδα μεταφοράς. Οι υιοθεσίες γίνονται με νόμιμο συμβόλαιο υιοθεσίας.
Europe
Adopter pays only for the transportation (and transportation box, and leash, if needed) plus the expenses to issue a passport (50 euros). If needed, the pet can be escorted to the adopter in which case the adopter should also pay the escort expenses.
Timeline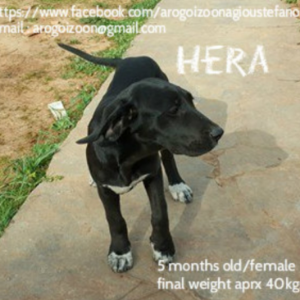 Hera
Apr 3, 2017 10:20:45 AM
In need for her forever home.