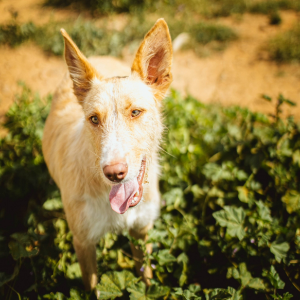 hello! my name is
Dahlia /P
Breed
Portuguese Podengo Grande
Size
Large
Age
3y 8m 7d
In shelter since
11-04-2022
Color
Marron y blanco
Country
Spain
City/Town
Salobreña
Registration number
906
---
Description
PHOTOS: https://photos.app.goo.gl/C6G4ss3tC5qfYPmg6

DAHLIA
- Hembra - esterilizada
- 2 anos
Dahlia estaba recogida de las calles y traído a nuestro refugio, medio abril. Ella es una podenca de pelo grueso, feliz y sin complejos, que ama su vida, pero quien lo quiere compartir con un familia activo y divertido.

DAHLIA
- Female - spayed
- 2 years
Dahlia was found and brought to the shelter, mid april. She is a happy, complex less wiry haired podenca, that enjoys her life but wants to share it with a fun-loving family.
---
Photo Gallery
No media available for this pet
Adoption Packages
No Adoption packages available for this pet
Timeline
No Timeline posts available for this pet