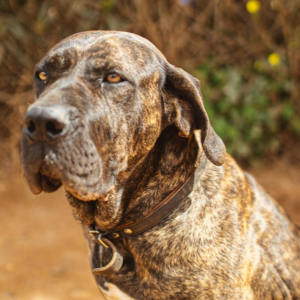 hello! my name is
Reina /P *
Breed
Fila Brasileira
Size
Giant
Age
2y 11m 23d
In shelter since
25-07-2021
Color
Atigrada
Country
Spain
City/Town
Salobreña
Registration number
655
---
Description
ES
Reina vino a nosotros en el verano del 21, sospechamos que una asociación o un particular la ha dejado en Salobreña. Quizás porque es una Fila Brasileiro, que necesita licencia en España.
Reina es una reina entre los perros. Tiene 2 años y medio, es una adulta joven que llama la atención con su belleza oscura.
Es la perra más dulce, sabia, amable y cariñosa. Se lleva bien con la mayoría de los perros y adora a los humanos, incluso cae al suelo de felicidad si la acaricias.

Cuando fue esterilizada, sus test mostraron una nivel baja de Leishmania, sin ningún problemas o signos. Entonces ella está recibiendo alopurinol en este momento, y se puede decir que el Leish está inactivo.

ENG
Reina came to us in the summer of '21, we suspect a association or private person to have dumped her in Salobrena. Maybe because she is a Fila Brasileiro, which needs a licence in Spain.
Reina is a queen among dogs. She is 2,5 years old, a young adult, who turns heads with her dark good looks. 
She is the sweetest dog, wise, kind and affectionate. She gets on well with most dogs and adores humans, even falling on the floor from happiness if you stroke her.

When she was sterilised, her tests showed a low level of Leishmania, without any problems of signs. So she is getting allopurinol at the moment, and the Leish can be said to be inactive.
---
Adoption Packages
No Adoption packages available for this pet
Timeline
No Timeline posts available for this pet