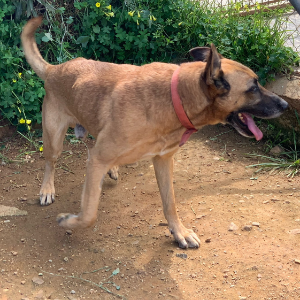 hello! my name is
Dixie
Breed
Belgian Malinois
Size
Large
Age
7y 3m 25d
In shelter since
08-09-2020
Color
Marron
Country
Spain
City/Town
Salobreña
Registration number
408
---
Description
ES
Trixie estaba vagando en las calles de Salobreña, junto con su compañera Dixie y la policía local los recoge.
Por desgracia su amigo lo encuentra muerto en el chenil uno semana después, sin ningún síntoma que algo lo estaba pasando mal. Trixie es un (cruce) de Malinois, y estos perros lo pasan mal estar encerrados en un chenil, sin mucho actividad. Por esto se nota que tiene un nivel de estrés elevada y necesite actividades por se sentir mejor.
Por el momento pensamos que seria lo mejor de ser perro único, por evaluarle bien.

ENG
Trixie was wandering the streets of Salobreña, along with his partner Dixie and the local police picked them up.
Unfortunately we found his friend dead in the kennel a week later, without any symptoms that something was going wrong. Trixie is a Malinois (cross), and these dogs have a hard time being locked up in a kennel, without a lot of activity. For this reason we can see that he has a high stress level and needs activities to feel better.
At the moment we think that it would be the best to be a unique dog, to evaluate him well.
---
Want to help?
Adopt Me!
or
Sponsor
Photo Gallery
No media available for this pet
Adoption Packages
No Adoption packages available for this pet
Timeline
No Timeline posts available for this pet