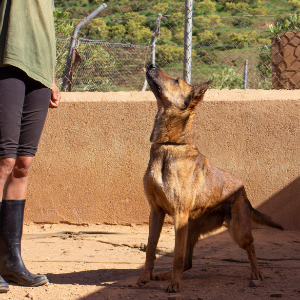 hello! my name is
Agua /P
Breed
Cruce Malinois
Size
Large
Age
4y 8m 21d
In shelter since
21-12-2020
Color
Marron-Negro
Country
Spain
City/Town
Salobreña
Registration number
369
---
Description
ES
Agua estaba solita en la calle en un pueblo de Granada, ella tenia un mal aspecto, con falta de pelo en various sitios de su cuerpo. Después su recogida por Gersom y Gema, la han traido directamente a la clínica donde estaba ingresado para rehydratarla y hacerle los pruebas necesarios.
Ella dado positiva a Leishmania, pero por suerte sus órganos no estaban afectados. Ya está casi a final de su tratamiento de Antishmania, y se nota que ya está bastante mejor.
Agua es un amor de pastora, obediente y cariñosa. Y esta en la búsqueda de una familia que quiere cuidarla bien, como todos lo merecen.

ENG
Agua was alone in the streets in a town in Granada, she had a bad appearance, with hairloss in various places on her body. After she was collected by Gersom and Gema, they brought her directly to the clinic where she was admitted to rehydrate her and do the necessary tests.
She tested positive for Leishmania, but luckily her organs weren't affected. She is almost at the end of her Antishmania treatment, and it shows that she is already quite improved.
Agua is sweet shepherd-cross, obedient and affectionate. And she is in search of a family that wants to take good care of her, as all dogs deserve.
---
Photo Gallery
No media available for this pet
Adoption Packages
No Adoption packages available for this pet