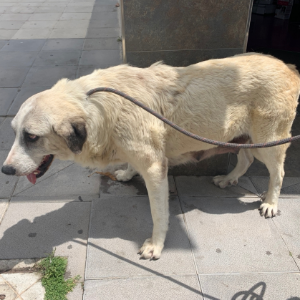 hello! my name is
Tierra /P *
Breed
Mastin
Size
Giant
Age
7y 19d
In shelter since
07-05-2020
Color
Canela
Country
Spain
Location
In fostering
Registration number
186
---
Description
ENG
Tierra was found at the side of the road sick from fever, having recently had another litter of puppies. Their owner claimed he had no idea what happened to the puppies and said dogs did not need feeding, because if they were hungry they could scavenge. Gema of SOS Salobrena took him to task and he is being investigated by police.
Tierra is a gentle, loving dog. She is five and a halve, but due to her hard life, acts more like a senior looking for peace and affection. She has been in the shelter since May and could really do with a home of her own.
Since a month she is in foster with Christine, where she enjoys individual attention and gets encouraged for more walks... as she is a bit overweight, from loving her food.

Spanish Mastins can make fantastic pets. Traditionally used to guard livestock, they are extremely loyal. They are also overwhelmingly affectionate, nudging you for a cuddle. Mastins have a sense of humour, particularly when they don't fancy a long walk!
---
Photo Gallery
No media available for this pet
Adoption Packages
No Adoption packages available for this pet
Timeline
No Timeline posts available for this pet