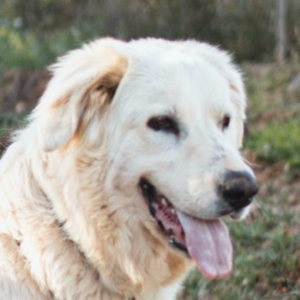 Hola, mi nombre es
Digby /P
Raza
Mastin Pirineo
Tamaño
Gigante
Edad
2y 8m 13d
En refugio desde
14-07-2021
Color
Blanco
País
Spain
Municipio
Salobreña
Número de registro
733
---
Descripción
It's not about looks, it's about personality, but just look at this show-stoppingly beautiful young boy. Digby is a hopelessly cuddly giant puppy so soft that you can lose yourself in his fur. Digby and his sister Diana are Pyrenean Mastin crosses and absolutely gorgeous. The first time Digby walked into the rescue we thought he was a Golden Retriever up close. Then we realised he was a Pyrenean Mountain Dog / Golden Retriever cross a long way away! Digby might be the biggest puppy in the world, a whopping 49kg of love at just one year old. Diana is lighter and smaller, with her brother's sweet happy nature.

Digby was found abandoned on the street with eyes so sore from ingrowing eyelashes he could hardly open them: what looks like eyeliner in the early photos is tear stains from crying. SOS Animales Salobrena took him to eye specialist Carmen Garcia of Taoro Vets Motril for corrective surgery. In the videos, you can see Digby going in for his op - with some hesitation! - and then afterwards, opening his eyes without pain for the first time. If you would like to contribute to his 400€ operation there is a PayPal link below.

Digby is so affectionate he will at some point jump up and cuddle you.

Digby and Diana are absolutely wasted in the shelter when they should be turning heads and forming lifelong bonds with (older) children in their own families.

While we would love them to stay together, we think they could adapt to being apart.
---
Paquetes de adopción
No hay paquetes de adopción disponibles para esta mascota
Cronología
No hay publicaciones nuevas disponibles para esta mascota