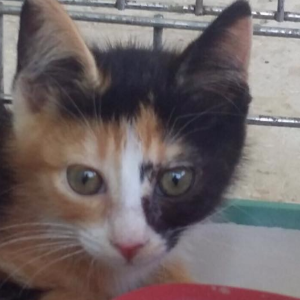 Hola, mi nombre es
Carmen
Raza
Tamaño
Pequeño
Edad
1y 9m 22d
En refugio desde
01-01-1970
Color
ginger, white, black
País
Cyprus
Municipio
Strovolos
Número de registro
61
---
Descripción
Hey, I'm a very pretty and friendly girl. Once I settle down my favorite thing is attention and cuddles. Oh and food, I love my food!'m easy-going and love to have a good time. I'm looking for someone honest, caring and kind to share this special journey we call life; someone who'll show me a good time.If you think you can give me the time, love and care I deserve, I think I might just be the special kitty for you!
---
Números de teléfono
99941394 (Ελληνικά), 99091817 (English)
¿Quieres ayudar?
Adoptame
Paquetes de adopción
Abroad
We will be happy to help you and your chosen cat friend be under one roof! Please let us know of your interest to adopt and we will inform you what are the details of adoption package for abroad. We have to let you know though that the cost of flight and the medical procedures needed in order for the cat to be ready to fly, are charged to the adopter.
Domestic
When you decide which cat you want to adopt please inform us and we will deliver it to you after giving it treatment for fleas and internal parasites. When the time comes ( when the animal is about 5-6 months of age) we can also offer coupons for spaying/neutering at our vet in Nicosia, at the reduced price of €20 for males and €32 for females.
Cronología
No hay publicaciones nuevas disponibles para esta mascota