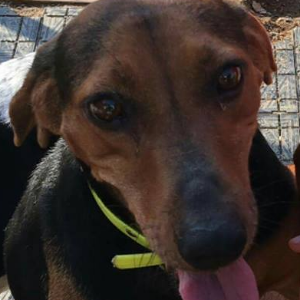 hello! my name is
Chloe
Breed
Geka Cross
Size
Medium
Age
6y 1m 22d
In shelter since
01-01-1970
Color
black and light brown
Country
Cyprus
City/Town
Limassol
Registration number
98
---
Description
Chloe is a sweet dog that has been with us for a long time now, probably after she was of no use for a hunter.. She really craves human attention and she is sweet and loving around people.. She is a bit bossy around other dogs but that could be probably because she is so long in the shelter that she needs to be in a home..

Η Chloe είναι μια γλυκιά σκυλίτσα η οποία είναι μαζί μας εδώ και πολύ καιρό, πιθανόν μετά που δεν ήταν πλέον χρήσιμη για κάποιον κυνηγό. Αποζητά συνεχώς την ανθρώπινη επαφή και είναι γλυκιά και γεμάτη αγάπη απέναντι σε αυτούς.. Είναι λίγο αυταρχική με τα άλλα σκυλιά, αλλά αυτό πιθανόν να προκύπτει από τη μεγάλη ανάγκη που νιώθει να φύγει από το καταφύγιο και να βρεθεί στο σπίτι της..
---
Telephone Numbers
+35799799699
Adoption Packages
Domestic
130 euros include neutering / spaying, microchip, ehrlichia and leishmania tests, vaccinations and de-wormings. Fee is paid at the vet and does not include any donation to the shelter.
Abroad
130 euros + Travel Expenses. Cost includes neutering / spaying, microchip, ehrlichia and leishmania tests, vaccinations and de-wormings. Fee is paid at the vet and does not include any donation to the shelter
Timeline
No Timeline posts available for this pet