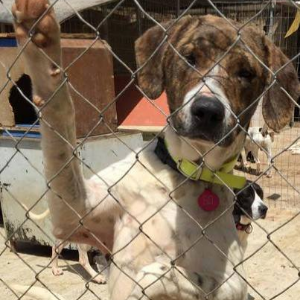 hello! my name is
Brindle
Breed
pointer cross
Size
Large
Age
4y 1m 22d
In shelter since
01-01-1970
Color
brown and white
Country
Cyprus
City/Town
Limassol
Registration number
77
---
Description
Brindle is at the shelter for a long time now, something that we just cant understand since she has so much love to give and would make an amazing family pet, companion to long walks and to kids playing. She is good with more submissive dogs since she has a strong personality and likes to feel like she is the leader, so maybe she should be in a household without other dogs.

Η Brindle είναι πολύ καιρό στο καταφύγιο, κάτι που είναι ανεξήγητο για εμας, αφού έχει τόση αγάπη να δώσει και θα γινόταν ένα ιδανικό μέλος σε μια οικογένεια, σύντροφος σε μεγάλες εξορμήσεις στην εξοχή, είτε στα παιδικά παιχνίδια. Είναι καλή με πιο υποτακτικά σκυλιά, αφού έχει πολύ δυναμική προσωπικότητα και της αρέσει να ηγείται, γιαυτό ίσως θα ήταν καλύτερα σε ένα σπίτι χωρίς άλλα σκυλιά.
---
Telephone Numbers
+35799799699
Adoption Packages
Domestic
130 euros include neutering / spaying, microchip, ehrlichia and leishmania tests, vaccinations and de-wormings. Fee is paid at the vet and does not include any donation to the shelter.
Abroad
130 euros + Travel Expenses. Cost includes neutering / spaying, microchip, ehrlichia and leishmania tests, vaccinations and de-wormings. Fee is paid at the vet and does not include any donation to the shelter
Timeline
No Timeline posts available for this pet