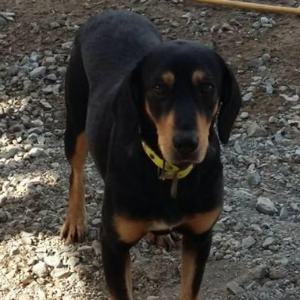 hello! my name is
Bridget
Breed
Jura cross
Size
Medium
Age
6y 5m 11d
In shelter since
01-01-1970
Color
Black and Tan
Country
Cyprus
City/Town
Limassol
Registration number
73
---
Description
Bridget is very shy and timid.. Although she is at the shelter for a long time, she is invisible by visitors since she never gets close. She is not even trying to approach the volunteers she sees every day.. She needs someone with patience to give her love and gain her trust, since she was probably abused in the past..She would probably be better in a quiet home, although she doesn't mind the company of other dogs, but she is submissive to them.

H Bridget είναι πολύ ντροπαλή και φοβισμένη. Παρόλο που είναι στο καταφύγιο για πολύ καιρό, είναι αόρατη για τους επισκέπτες, αφού δεν πλησιάζει ποτέ.. Δεν προσεγγίζει ούτε καν τους εθελοντές που βλέπει καθημερινά. Χρειάζεται κάποιον με πολλή υπομονή για να της δώσει την αγάπη που στερήθηκε και να κερδίσει την εμπιστοσύνη της, αφού πιθανότατα είχε υποστεί κακοποίηση στο παρελθόν. Πιθανόν θα ήταν καλύτερα να πάει σε ένα ήσυχο σπίτι, αν και δεν την ενοχλέι η παρέα άλλων σκύλων, αν και είναι υποτακτική μαζί τους.
---
My temporary Home:

Dog Valley Rescue Center
Telephone Numbers
+35799799699
Adoption Packages
Domestic
140 euros include neutering / spaying, microchip, 4dx and ifat tests, vaccinations and de-wormings. Fee is paid at the vet and does not include any donation to the shelter.
Abroad
140 euros + Travel Expenses. Cost includes neutering / spaying, microchip, ehrlichia and leishmania tests, vaccinations and de-wormings. Fee is paid at the vet and does not include any donation to the shelter
Timeline
No Timeline posts available for this pet