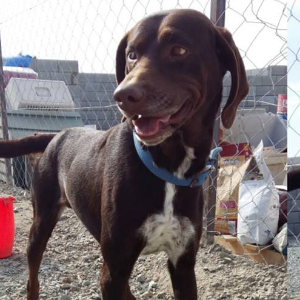 hello! my name is
Choco
Breed
Pointer cross
Size
Large
Age
6y 1m 22d
In shelter since
01-01-1970
Color
brown
Country
Cyprus
City/Town
Limassol
Registration number
72
---
Description
Choco is a loving boy that follows us around wagging his tail and asking for some love! He is very well behaved and photos don't do him justice since he is much more handsome for up close! He is one of our longest residents and thats a complete mystery to us, since he is amazing around everyone!

o Choco είναι ένα γλυκό αγόρι που μας ακολουθά παντού κουνώντας την ουρά του και ζητώντας λίγη αγάπη. Έχει πολύ καλή συμπεριφορά και οι φωτογραφίες τον αδικούν, αφού είναι πολύ πιο όμορφος από κοντά. Είναι ένα από τα σκυλάκια μας που είναι στο καταφύγιο εδώ και πολύ καιρό και αυτό είναι ένα πραγματικό μυστήριο για μας, αφού είναι πραγματικά υπέροχος με όλους!
---
Telephone Numbers
+35799799699
Photo Gallery
No media available for this pet
Adoption Packages
Domestic
130 euros include neutering / spaying, microchip, ehrlichia and leishmania tests, vaccinations and de-wormings. Fee is paid at the vet and does not include any donation to the shelter.
Abroad
130 euros + Travel Expenses. Cost includes neutering / spaying, microchip, ehrlichia and leishmania tests, vaccinations and de-wormings. Fee is paid at the vet and does not include any donation to the shelter
Timeline
No Timeline posts available for this pet