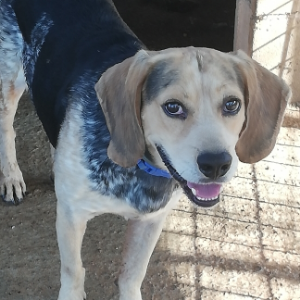 hello! my name is
Bond
Breed
beagle cross
Size
Medium
Age
5y 11m 23d
In shelter since
01-01-1970
Color
black, light brown and white
Country
Cyprus
City/Town
Limassol
Registration number
43
---
Description
Bond is very timid and not used to human interaction. He is friendly with other dogs but needs socialization around people.. Besides that he is sweet and quiet, one of the dogs that people pass by without even noticing.. He will be much happier in a home where they would show him the love he needs to come out of his shell..
Ο Bond είναι ένα πολύ ντροπαλό σκυλάκι που δεν έχει συνηθίσει την ανθρώπινη επαφή.. Είναι φιλικός με τα άλλα σκυλάκια, αλλά χρειάζεται να κοινωνικοποιηθεί με τους ανθρώπους..Είναι γλυκός και ήσυχος, ένα από τα σκυλάκια που οι επισκέπτες προσπερνούν χωρίς να τον προσέξουν.. Θα ήταν πολύ πιο χαρούμενος μέσα σε ένα σπίτι όπου θα του δείξουν την αγάπη που χρειάζεται για να βγει από το καβούκι του.
---
My temporary Home:

Dog Valley Rescue Center
Telephone Numbers
+35799799699
Adoption Packages
Domestic
140 euros include neutering / spaying, microchip, 4dx and ifat tests, vaccinations and de-wormings. Fee is paid at the vet and does not include any donation to the shelter.
Abroad
140 euros + Travel Expenses. Cost includes neutering / spaying, microchip, ehrlichia and leishmania tests, vaccinations and de-wormings. Fee is paid at the vet and does not include any donation to the shelter
Timeline
No Timeline posts available for this pet