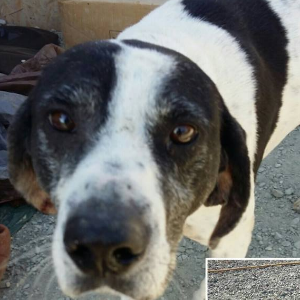 hello! my name is
Brandy
Breed
pointer cross
Size
Medium
Age
7y 11m 11d
In shelter since
01-01-1970
Color
black and white
Country
Cyprus
City/Town
Limassol
Registration number
41
---
Description
Brandy was found roaming lost and scared the central roads of Limassol, in danger of being run over by a car, obviously abandoned by his owner.. A lady saved him and now he is saved but unhappy in the shelter.. It seems that he doesn't understand why he is there and where his owner is. He is well behaved, good with other dogs and energetic, he would make a lovely companion for long walks and then relaxing on the sofa..Please consider adopting him, he doesn't deserve to be alone in the shelter..

O Brandy βρέθηκε να περιπλανιέται μόνος και χαμένος στο κέντρο της Λεμεσού, κινδυνεύοντας από τα αυτοκίνητα που περνούσαν και προφανώς εγκαταλειμμένος από τον ιδιοκτήτη του.. Μια κυρία τον περιμάζεψε και τώρα είναι ασφαλής αλλά δυστυχισμένος στο καταφύγιο.. δείχνει να μην καταλαβαίνει πώς και γιατί βρέθηκε εκεί, γιατί τον πέταξε το αφεντικό του.. Είναι καλός με τους ανθρώπους και τους άλλους σκύλους και αρκετά ενεργητικός. Θα γινόταν υπέροχος σύντροφος σε μεγάλες βόλτες και αγκαλιές στον καναπέ.. Σκεφτείτε να τον υιοθετήσεετ, δεν του αξίζει να είναι μόνος του στο καταφύγιο..
---
Telephone Numbers
+35799799699
Adoption Packages
Domestic
130 euros include neutering / spaying, microchip, ehrlichia and leishmania tests, vaccinations and de-wormings. Fee is paid at the vet and does not include any donation to the shelter.
Abroad
130 euros + Travel Expenses. Cost includes neutering / spaying, microchip, ehrlichia and leishmania tests, vaccinations and de-wormings. Fee is paid at the vet and does not include any donation to the shelter
Timeline
No Timeline posts available for this pet