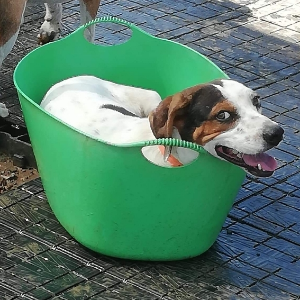 hello! my name is
Adonis
Breed
pointer cross
Size
Medium
Age
5y 11m 20d
In shelter since
01-01-1970
Color
white with black and orange mask on his face
Country
Cyprus
City/Town
Limassol
Registration number
32
---
Description
Ο Άδωνις πήρε το όνομά του από τον αντίστοιχο θεό της ομορφιάς, ή μάλλον θα έπρεπε να πούμε ότι το κέρδισε, αφού είναι ένα από τα πιο γλυκά σκυλάκια στο καταφύγιό μας! Του λείπει η ανθρώπινη επαφή και γι' αυτό μας περιμένει πάντα κουνώντας την ουρά του και με μια έκφραση χαράς στο πρόσωπό του.Ποιος δε θα ήθελε έναν τέτοιο πιστό φίλο να τον περιμένει όταν επιστρέφει σπίτι από τη δουλειά και να του φτιάχνει με την αγάπη του τη μέρα του;;

Adonis was named after the greek god of beauty, or should we say that he earned it because of his amazing looks! He really misses human interaction, since he is always waiting for us, wagging his tail and we are pretty sure that he is smiling, just look at his face in the photos? Who wouldn't like this faithful friend expecting him behind his home's door, to make his day with his unconditional love?please consider adopting him!
---
My temporary Home:

Dog Valley Rescue Center
Telephone Numbers
+35799799699
Adoption Packages
Domestic
140 euros include neutering / spaying, microchip, 4dx and ifat tests, vaccinations and de-wormings. Fee is paid at the vet and does not include any donation to the shelter.
Abroad
140 euros + Travel Expenses. Cost includes neutering / spaying, microchip, ehrlichia and leishmania tests, vaccinations and de-wormings. Fee is paid at the vet and does not include any donation to the shelter
Timeline
No Timeline posts available for this pet