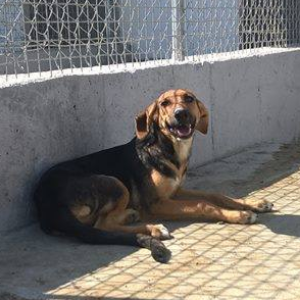 hello! my name is
Elina
Breed
German Shepherd cross
Size
Medium
Age
3y 11m 16d
In shelter since
01-01-1970
Color
Country
Cyprus
City/Town
Nicosia
Registration number
54
---
Description
Sugar and spice and everything nice, that's what little girls are made of! Ok, I'm not made of sugar and spice but I'm definitely made of everything nice! My carers say I don't have a single bad bone in me and that I'm the cuddliest, most affectionate girl in the world! I came in the pound terrified of humans but the guys here were so loving I couldn't believe it was true.. They said that not all humans are bad but I couldn't believe them as humans only showed me their bad side til now. They also said that I am safe now but couldn't believe that either.. Now, I know whatever they said was true! There are some good people out there... They promised they will find me the most pawstastic home where I will be loved even more than they love me and where they will be taking me for long walks, they will be playing with me, they will be cuddling me... Ahhhh isn't that a dream?? Forgot to mention I also love kids and other dogs, so if you have any, don't worry I promise I won't lick them to death! I will be patiently waiting for you!
---
My temporary Home:

Χώρος Προσωρινής Φύλαξης Αδέσποτων Σκύλων
Telephone Numbers
96701075
Photo Gallery
No media available for this pet
Adoption Packages
Domestic
Microchip + Vaccine + Deworming. Castration is not compulsory but we suggest you neuter your adopted pet. Neutering / spaying can be arranged at a reduced price. Contact us for more info.
Abroad
If you are interested in adopting one of our dogs, we can arrange export to all EU countries and the UK. Contact us for more info.
Timeline
No Timeline posts available for this pet