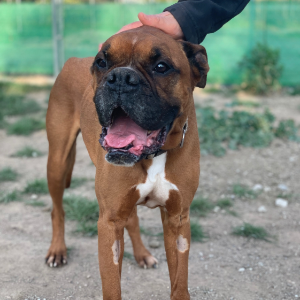 hello! my name is
Whisky
Breed
Boxer
Size
Large
Age
10y 8m 17d
In shelter since
23-01-2021
Color
Marron
Country
Spain
City/Town
Salobreña
Registration number
405
---
Description
Whisky was brought to the vets, to euthanize. Apparently he had bitten the child in the family. But he also had a lump on his side. The vet declined to put him to sleep, so they took him to the pound 😡. Fortunately at the moment we have a good caretaker, which has taken him to another vet to have it removed on 20/1. We took him out of the pound to the residence of Sergio, so he could recuperate and assess him there.
He turns out to be a realy friendly and playful boy, who does not seem to be old-aged yet.
The only thing was that he did not put on weight. So last week he was tested by the vet, and negative to all mediterranean deseases, only his liver values were a bit high. He'll now be getting a special food and supplements to help the liver restore.
---
Photo Gallery
No media available for this pet
Adoption Packages
No Adoption packages available for this pet
Timeline
No Timeline posts available for this pet