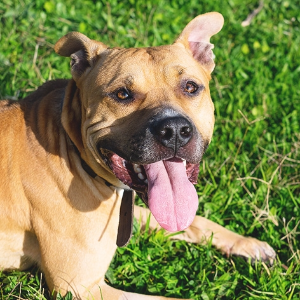 hello! my name is
HORUS
Breed
Mestis american staffordshire
Size
Large
Age
6y 7d
In shelter since
05-12-2018
Color
Marro
Country
Spain
Location
In fostering
Registration number
33780
---
Description
CATALÀ:
L' Horus  no ha tingut un passat fàcil, vivia tancat a un pis sense sortir a passejar mai, i això fa que no controli la seva energia. S'excita amb facilitat i necessita un adoptant que li faci fer activitats  perquè  cremi energia i sàpiga imposar-se quan s'excita massa. To i això  és  un gos molt bo que quan està calmat li encanten les  carícies  i el contacte amb les persones. Amb els altres gossos, amb una bona adaptació pensem que hi podria conviure. Si el voleu conèixer, podeu preguntar per ell escrivint a info@protectoramataro.org , indicant el vostre telèfon per poder contactar amb vosaltres.
🔴 AVÍS!!!! Si us plau, no vingueu directament. Amb la situació per pandèmia hem de prevenir i evitar que s'acumuli massa gent als refugis o a l'espai veterinari. Demaneu cita escrivint un correu a info@protectoramataro.org. Gràcies per entendre-ho!

ESPAÑOL:
Horus no ha tenido un pasado fácil, vivía cerrado en un piso sin salir a pasear nunca, y esto hace que no controle su energía. Se excita con facilidad y necesita un adoptante que le haga hacer actividades para que queme energía y sepa imponerse cuando se excita demasiado.  Con todo y con esto es un perro muy bueno que cuando está calmado le encantan las caricias y el contacto con las personas. Con los otros perros, con una buena adaptación pensamos que podría convivir. Si lo queréis conocer, podéis preguntar por él escribiendo a info@protectoramataro.org , indicando vuestro teléfono para poder contactar con vosotros.
🔴 ¡AVISO!!!! Por favor, no vengáis directamente. Con la situación por pandemia tenemos que prevenir y evitar que se acumule demasiada gente en los refugios o en el espacio veterinario. Pedid cita escribiendo un correo a info@protectoramataro.org. ¡Gracias por entenderlo!
---
Want to help?
Adopt Me!
or
Sponsor
Adoption Packages
Ningú vol GPP / Nadie quiere PPP
Gossos de les mal anomenades races potencialment perilloses (Gpp's). El cost de la seva adopció és de només 50€, i des de la protectora assumim el cost de l'assegurança del primer any i un descompte en el cost del psicotècnic. // Perros de las mal llamadas razas potencialmente peligrosas (PPPs). El coste de su adopción es de sólo 50€, y desde la protectora asumimos el coste del seguro el primer año, así como un descuento en el coste del psicotécnico.
Ningú vol per problemes d'adaptació / Nadie quiere por problemas de adaptación
Els gossos i gats que poden presentar algun problema d'adaptació a la nova llar. El cost de la seva adopció és de només 50€, i des de la protectora oferim un acompanyament amb educador fer facilitar la seva adaptació a la nova família. // Los perros y gatos que pueden presentar algún problema de adaptación al nuevo hogar. El coste de su adopción es de sólo 50€, y desde la protectora ofrecemos acompañamiento con educador para facilitar la adaptación a la nueva familia.
Timeline
No Timeline posts available for this pet