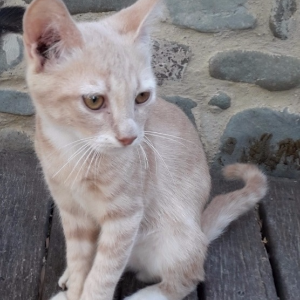 hello! my name is
Indy
Breed
Size
Small
Age
1y 10m 20d
In shelter since
01-01-1970
Color
ginger and white
Country
Cyprus
City/Town
Strovolos
Registration number
54
---
Description
For many months I spent my time under the trees in the park. I have become a very affectionate cat that loves attention and chin scratches. The volunteers that come and feed me think that I am the most handsome young boy because of my 'aristocat' style and beautiful fur coat. I am quite talkative to make you understand what I want. I would love to go to a forever home where I could be someones pet, and share moments of love together. !
---
Telephone Numbers
99941394 (Ελληνικά), 99091817 (English)
Adoption Packages
Abroad
We will be happy to help you and your chosen cat friend be under one roof! Please let us know of your interest to adopt and we will inform you what are the details of adoption package for abroad. We have to let you know though that the cost of flight and the medical procedures needed in order for the cat to be ready to fly, are charged to the adopter.
Domestic
When you decide which cat you want to adopt please inform us and we will deliver it to you after giving it treatment for fleas and internal parasites. When the time comes ( when the animal is about 5-6 months of age) we can also offer coupons for spaying/neutering at our vet in Nicosia, at the reduced price of €20 for males and €32 for females.
Timeline
No Timeline posts available for this pet