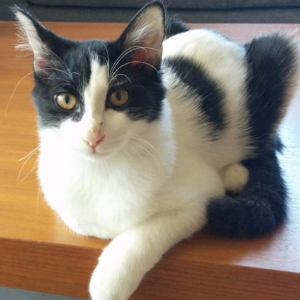 hello! my name is
Panda
Breed
Size
Small
Age
1y 8m 18d
In shelter since
01-01-1970
Color
Μαύρο και Άσπρο
Country
Cyprus
City/Town
Strovolos
Registration number
45
---
Description
Panda was found when he was a baby in the park where he was feeling very sad because he was not safe and was afraid. So we transferred him to a temporary home where he met other cats fostered there. But what he really needs is a permanent home. He will thank you with all of his heart if you allow him to become your best companion! Ο Panda βρέθηκε όταν ήταν μωρό σε ένα πάρκο όπου ένιωθε πολύ λύπημένος επειδή δεν ήταν καθόλου ασφαλής και φοβόταν. Οπότε τον μεταφέραμε σε ένα προσωρινό σπίτι, όπου γνώρισε άλλες γάτες που φιλοξενούνταν εκεί. Αλλά αυτό που πραγματικά χρειάζεται είναι ένα παντοντινό σπίτι. Θα σας ευχαριστήσει με όλη του την καρδιά αν του επιτρεψετε να γίνει η καλύτερη σας συντροφιά !
---
Telephone Numbers
99941394 (Ελληνικά), 99091817 (English)
Adoption Packages
Abroad
We will be happy to help you and your chosen cat friend be under one roof! Please let us know of your interest to adopt and we will inform you what are the details of adoption package for abroad. We have to let you know though that the cost of flight and the medical procedures needed in order for the cat to be ready to fly, are charged to the adopter.
Domestic
When you decide which cat you want to adopt please inform us and we will deliver it to you after giving it treatment for fleas and internal parasites. When the time comes ( when the animal is about 5-6 months of age) we can also offer coupons for spaying/neutering at our vet in Nicosia, at the reduced price of €20 for males and €32 for females.
Timeline
No Timeline posts available for this pet