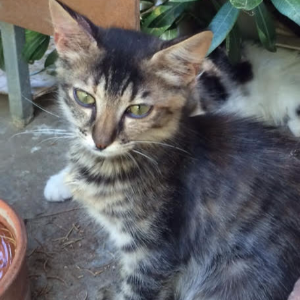 hello! my name is
Daisy
Breed
Size
Small
Age
2y 8m 24d
In shelter since
01-01-1970
Color
Tabby
Country
Cyprus
City/Town
Strovolos
Registration number
9
---
Description
Daisy is friendly and cute girl, calm and thoughtful. She is very patient with other cats, even the big ones who sometimes bully her. She would love a home where she would be safe and cherished.
---
My temporary Home:

The Cat Guardians
Photo Gallery
No media available for this pet
Adoption Packages
Domestic
When you decide which cat you want to adopt please inform us and we will deliver it to you after giving it treatment for fleas and internal parasites. When the time comes ( when the animal is about 5-6 months of age) we can also offer coupons for spaying/neutering at our vet in Nicosia, at the reduced price of €20 for males and €32 for females.
Abroad
We will be happy to help you and your chosen cat friend be under one roof! Please let us know of your interest to adopt and we will inform you what are the details of adoption package for abroad. We have to let you know though that the cost of flight and the medical procedures needed in order for the cat to be ready to fly, are charged to the adopter.
Timeline
No Timeline posts available for this pet